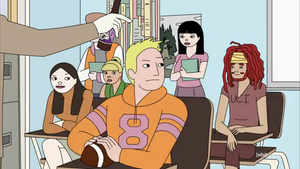 Tommy Middleton, nicknamed White Angus, is a student who begins attending UCI in Season 3. His appearances are limited mostly to cameos, and he speaks in two episodes of the six in which he appears.
Episode Appearances
Edit
Ad blocker interference detected!
Wikia is a free-to-use site that makes money from advertising. We have a modified experience for viewers using ad blockers

Wikia is not accessible if you've made further modifications. Remove the custom ad blocker rule(s) and the page will load as expected.