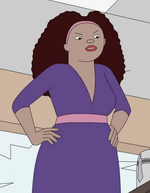 Wendeloquence is a student who attends UCI in Season 2.
Biography
Edit
In "The Perfect Lecture", she gets bored of Frank repeating his "perfect lecture."
When she sees Pony and a gargantuan lovebug walking beside each otner in "Kenny Winker Rules", she proudly claims that women are finally getting real attention after enduring sexist music from Kenny Winker.
She points out Pony and Steve's apparent love for each other in "China-Man Begins" and claims their denial only makes it more apparent.
Episode Appearances
Edit
Ad blocker interference detected!
Wikia is a free-to-use site that makes money from advertising. We have a modified experience for viewers using ad blockers

Wikia is not accessible if you've made further modifications. Remove the custom ad blocker rule(s) and the page will load as expected.