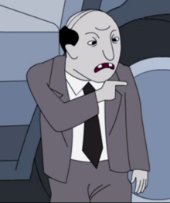 The Governor of China, IL, works and presumably resides at the Illinois Governor Mansion.
In "Chinese New Year", the Governor threatens to shut down UCI after all of its students fail their exams. Later arriving at campus, the Governor reveals his short stature, disappointing the students, professors, and especially the Dean. Having joined forces with the Governor, the Mayor admits that he does not know why exactly he did so.
After claiming to have a plan to remedy the supposed overpopulation issue in "A Gentleman's Bet", Ronald Reagan asks the Governor for a remedy instead, showing that Reagan lacks one. Instead of complying, the Governor asks the Mayor for an idea, which begins a chain ending in the Dean assembling a think tank to come up with an idea. When the think tank comes up with a slapdash idea, it follows its way back to Reagan through the Dean, and eventually the Governor, ultimately back to Reagan.
Episode Appearances
Edit
Ad blocker interference detected!
Wikia is a free-to-use site that makes money from advertising. We have a modified experience for viewers using ad blockers

Wikia is not accessible if you've made further modifications. Remove the custom ad blocker rule(s) and the page will load as expected.