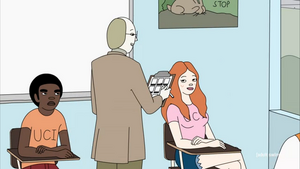 For the hippie who appeared in "Prom Face/Off", see Hippies.
Sunshine is a student who begins attending UCI in Season 3. Since this is a name given by Steve, her real name may be something different.
Biography
Edit
Going down the roster in "A Gentleman's Bet", Steve assigns this student the name of Sunshine, and she accepts it. Later, as part of the Smiths' annual bet, Steve has Frank entice Sunshine to have sex with Hoh-Hoh, another new student. After difficulty with Hoh-Hoh and an intervening Steve, Sunshine and Hoh-Hoh eventually copulate to Frank's satisfaction and Steve's disbelief.
During the Third Season, Sunshine makes friends with her female peers, namely Kim and Stacy Megan.
Episode Appearances
Edit