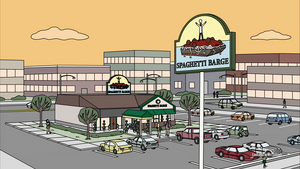 Spaghetti Barge is a restaurant in China. Here Steve Smith dines with his parents, Ward and June Smith, in "Parent's Day", Ward attempting to pay for expenses to assert his authority over Steve and get June to stop being attracted to Steve. This fails, however, when Ward realizes he doesn't have any cash with him at this cash-only diner, and Steve must pay, further strengthening June's attraction to her son.
Ad blocker interference detected!
Wikia is a free-to-use site that makes money from advertising. We have a modified experience for viewers using ad blockers

Wikia is not accessible if you've made further modifications. Remove the custom ad blocker rule(s) and the page will load as expected.