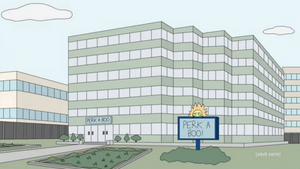 The Perk-a-Boo! Headquarters is in charge of the Perk-a-Boo! vending machines on UCI. In "The Perfect Lecture", Baby Cakes appeals to its management regarding his idea for energy bars. Later in "Gummie World", it's revealed that Baby Cakes visits the office frequently, giving one ridiculous idea after another. The eponymous world, however, is accepted after much hesitation.
Episode Appearances
Edit
Ad blocker interference detected!
Wikia is a free-to-use site that makes money from advertising. We have a modified experience for viewers using ad blockers

Wikia is not accessible if you've made further modifications. Remove the custom ad blocker rule(s) and the page will load as expected.