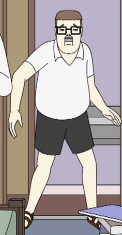 Pemsy is a student who begins attending UCI in Season 2.
Biography
Edit
He is a target of teasing and maybe even bullying, having been bullied by Matt and Steve on more than one occasion apiece.
Pemsy seems to be a good-standing student, as he mentions having a full-ride scholarship at the school.
He enjoys the music of Kenny Winker, much like most males in the show.

This changed later, as Kenny Winker changes his style so everyone, not just females, hate his music.
Episode Appearances
Edit
Ad blocker interference detected!
Wikia is a free-to-use site that makes money from advertising. We have a modified experience for viewers using ad blockers

Wikia is not accessible if you've made further modifications. Remove the custom ad blocker rule(s) and the page will load as expected.