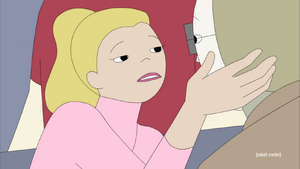 Molly is a student at UCI.
Biography
Edit
In "Surfer God", Steve asks Molly for sex, but she refuses, insisting she won't have sex before marriage. After God abolishes the original Ten Commandments, she accepts but then refuses it when Steve won't chill, going against the revised First Commandment. Molly returns to Steve when he gets over his paranoia, but she becomes promiscuous and dates other men, even God. At the end of the episode, Molly is shown as one of several women being affected by stillbirths—this is due to God impregnating them, as he claims it's how he dates women.
Episode Appearances
Edit
Ad blocker interference detected!
Wikia is a free-to-use site that makes money from advertising. We have a modified experience for viewers using ad blockers

Wikia is not accessible if you've made further modifications. Remove the custom ad blocker rule(s) and the page will load as expected.