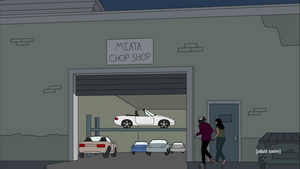 The Miata Chop Shop is a business that dismantles stolen Miatas, then sells the parts individually. It's owned and controlled by Miata Mike and his co-workers.
In "Total Validation", following a visit to the Tow Up Towing Yard, Frank and Pony stop by the Miata Chop Shop to recover Steve's Miata, which they lost earlier during a joyride that went awry. They indeed find the car here, but to get it back, they have to make a deal with Miata Mike.
Ad blocker interference detected!
Wikia is a free-to-use site that makes money from advertising. We have a modified experience for viewers using ad blockers

Wikia is not accessible if you've made further modifications. Remove the custom ad blocker rule(s) and the page will load as expected.