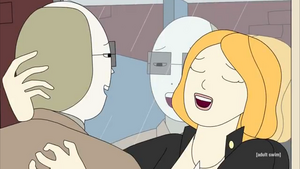 Leslie is a student who begins attending UCI in Season 3.
Biography
Edit
She first appears in "A Gentleman's Bet", and as part of an annual bet with the Smiths, Frank has Steve convince her to copulate with Billy, another new student. Just as Billy is about to do so, he stops for personal reasons. In addition, Steve finds himself having intercourse with Leslie twice.
Episode Appearances
Edit
Ad blocker interference detected!
Wikia is a free-to-use site that makes money from advertising. We have a modified experience for viewers using ad blockers

Wikia is not accessible if you've made further modifications. Remove the custom ad blocker rule(s) and the page will load as expected.