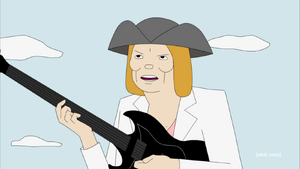 Kenny Winker is a rock star whose music is largely loved by males but despised by females.
Biography
Edit
His name is seen on a banner in "Dean vs. Mayor" as students and staff party after a victorious math contest.
He was claimed to have fired his manager in "Baby Boom".
He and his band perform at the staff prom in "Prom Face/Off".
Frank is shown to have a picture of Kenny in "Frankensteve".
An image of him is seen in "Dream Reamer" as Baby Cakes adds friends on Facebook. In the same episode, Steve is shown to have a poster of the rock star.
He tours China in "Kenny Winker Rules" and is hated by females. He changes his style of music when he learns this, only to have males begin to dislike his music as well.
Although performing at the staff prom, females weren't shown disliking him at the time. The disdain as such most likely started between that episode and "Kenny Winker Rules".
Episode Appearances
Edit