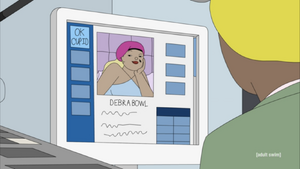 Debra Bowl is the daughter of newscaster Golden and a sorority mother. With occasional dialogue, she usually makes background appearances.
Biography
Edit
In "Kenny Winker Rules", she and her students party with Steve and Frank, who leave important keys at the sorority house after entrusted by the Dean. The Smiths try the following day to reclaim the keys but are rejected by Debra. The keys are held captive until the sorority housed is gassed by Pony, angry that a cockroach she fell in love with is cheating on her with the sorority's residents.
Episode Appearances
Edit
Ad blocker interference detected!
Wikia is a free-to-use site that makes money from advertising. We have a modified experience for viewers using ad blockers

Wikia is not accessible if you've made further modifications. Remove the custom ad blocker rule(s) and the page will load as expected.