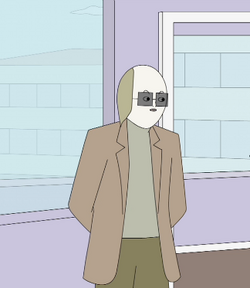 Carabas is an alien-believing teacher who only appears in "Do You Know Who You Look Like?". Steve bears ill feelings toward Carabas, but tries denying these feelings at first. After many people confuse Steve with Carabas, Steve exacts revenge by taking over his rival's bookstore, and admits that his feelings toward Carabas is due to the fact that the two have similar appearances. As the two proceed to fight, another man resembling Steve enters the fight as well. Steve claims that the man resembles Carabas more than the unnamed man resembles Steve, and the man holds Carabas while jumping into a fireplace, killing both of them to Steve's satisfaction.
Ad blocker interference detected!
Wikia is a free-to-use site that makes money from advertising. We have a modified experience for viewers using ad blockers

Wikia is not accessible if you've made further modifications. Remove the custom ad blocker rule(s) and the page will load as expected.