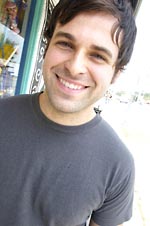 Brad Neely is a American comic book artist and television writer/producer known for his work on books such as Wizard People, Dear Reader, I Am Baby Cakes, The Professor Brothers, and TV series such as South Park and China, IL.
Life and career
Edit
Brad Neely is originally from Fort Smith, Arkansas[1] and now resides in Los Angeles.[2] Neely attended the Pennsylvania Academy of the Fine Arts.
Neely's work includes the comic series "Creased Comics" and the Harry Potter spoof Wizard People, Dear Reader, which consists of an alternate soundtrack of narration in the style of a book on tape, which viewers can play over the muted movie. Neely is featured in the documentary We Are Wizards.[3]
Neely is the creator of the cartoon Cox & Combes' Washington. Aside from occasional one-off videos, he has also created three series: I Am Baby Cakes, The Professor Brothers, and China, IL, all of which take place in the fictional location of China, Illinois. Baby Cakes shorts are typically in the style of diary entries narrated in the first person by Mark "Baby" Cakes, a philosophical and likely autistic 30-year-old man. The Professor Brothers follows the professional and personal misadventures of Frank and Steve Smith, two brothers who are professors at a local community college whose mascot is a panda bear. China, IL interweaves the two other stories, as Baby Cakes falls in love with Frank's recently dead girlfriend after finding her diary, and the two men attempt to come to terms with their emotional pain upon learning of her death.
Neely worked on a comedy novel about the American Civil War, but when asked about it at an event at the Alamo Draft House in Austin, Texas said, "I realized about 500 pages in that it wasn't that funny," and said that he is no longer planning on releasing the book. He has also produced America Now, a 12-part series of 30-second musical shorts for Adult Swim, which is now available on the station's website. Neely was a consultant on the animated series South Park for the second half of Season 11.
On May 5, 2008, Super Deluxe began releasing a four-part mini-series by Neely entitled China, IL. The site published an installment once a week, culminating on May 25 with a broadcast of the entire series as one eleven-minute episode on Adult Swim. The show is the first original Brad Neely work to be shown on television. In May 2011, Adult Swim announced that China, IL would be one of the new full-length premiers for the fall line-up with Neely having creative and executive producer credits. The first episode was broadcast on October 3, 2011 on Adult Swim, and the series ran for three seasons until its finale on June 14, 2015.
Neely's latest series, Brad Neely's Harg Nallin' Sclopio Peepio, debuted on Vine on June 27, 2016. The series ended later that year on September 18, its cancellation confirmed on November 15. [4]