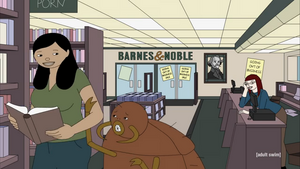 Barnes & Noble is the largest retail bookseller in the United States, serving the 50 states with its roughly 1400 locations, approximately half belonging on college campuses.
On the Show
Edit
In "Kenny Winker Rules", Pony and her boyfriend, a giant cockroach, visit the bookstore. While Pony takes a break and isn't looking, the roach cheats on her with the store's clerk.
Ad blocker interference detected!
Wikia is a free-to-use site that makes money from advertising. We have a modified experience for viewers using ad blockers

Wikia is not accessible if you've made further modifications. Remove the custom ad blocker rule(s) and the page will load as expected.