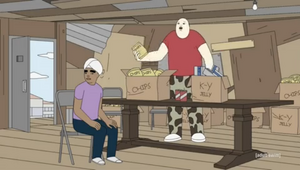 Aladdin is a student who begins attending UCI in Season 2.
Biography
Edit
He first appears in "Wild Hogs" being escorted by the Dean. When distracted by the eponymous wild hogs, the Dean has him befriend Baby Cakes and is recommended to "get him hazed or something". True to this, Baby Cakes tries and fails to have him initiated into a fraternity, so the two start one of their own, which is interrupted when the wild hog invasion causes those trying to save the town to retreat there.
Aladdin reappears for the new school year in "A Gentleman's Bet" as a part of Steve's class.
It's unknown what his real name is since he had a nickname assigned by Baby Cakes.
Episode Appearances
Edit
Ad blocker interference detected!
Wikia is a free-to-use site that makes money from advertising. We have a modified experience for viewers using ad blockers

Wikia is not accessible if you've made further modifications. Remove the custom ad blocker rule(s) and the page will load as expected.